Draft Of Proposed Andy's Law
Custom Page
Andy's Law
Andy's Law is a draft of a law I propose to become a statute under the provisions of the Penal Code of the State of California.
Introduction
Andy's Law is written for Andy Lopez, a thirteen year old who was shot multiple times shortly after school while he carried a BB gun in Sonoma County, California.
The Sonoma County Deputy Sheriff who shot Andy was cleared of any wrongdoing by a law enforcement agency and local district attorney's office as a result of the deputy's claim to have feared for his life and the safety of others while believing the BB gun to be a real assault rifle.
The number of shots fired by the deputy tends to show a deliberate intent to kill.
An examination of the rifle carried by Andy proved to be nothing more than a BB gun in the minor's possession and thus, the killing of Andy by the deputy appears to prove the killing to be unecessary.
The failure of the local district attorney to find any charges to file against the deputy has prompted me draft a statute that may be adopted by the Legislature or voters of this State. In the alternative, something similiar should be pursued.
The draft of the statute I recommend is as follows:
Draft Of Proposed Law: California Penal Code Section 149.1
Section 149.1 be added to the Penal Code of California to read as follows:
149.1 Shooting by public officer
(a) This statute may be cited as "Andy's Law";
(b) Every public officer who, under color of authority, without lawful necessity, shoots any person with a firearm or other instrument capable of causing serious bodily injury or other physical trauma, is punishable by a fine not exceeding two hundred fifty thousand dollars ($250,000), or by imprisonment in the state prison for four, eight, or twelve years, or by both that fine and imprisonment;
(c) When multiple shots are fired, each shot shall be deemed a separate offense whenever in violation of subdivision (b);
(d) Every officer convicted of a crime as defined under subdivision (b) this section, in addition to any other punishment, forfeits his/her office and is forever disqualified from holding any office in this state;
(e) The district attorney in each county of this State shall be responsible for the enforcement of subdivisions (b), (c), and (d) of this section;
(f) The failure of any county district attorney to enforce the provisions set forth in subdivisions (b), (c), and (d) of this section shall be grounds for a local grand jury to remove the district attorney from office;
(g) If a district attorney is removed from office pursuant to subdivision (f) of this section, the district attorney forfeits his/her office and is forever disqualified from holding any office in this State;
(h) The provisions of this section are severable. If any provision of this setion or its application are held invalid, that invalidity shall not effet other provisionsor applications that can be given effet without the invalid provision or appliction.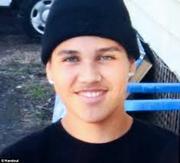 Andy Lopez - Age 13 - Killed by deputy
Under present written laws of the State of California, public officers get away with "murder" and there are district attorneys who will not prosecute even if our present laws were changed.
Therefore, Andy's Law as drafted above, requires further, the enforcement of the provisions of said proposed statute, subject to their removal from office for their failure to enforce the provisions of the statute.